MINDFUL PRACTICES
MaHarry is a pioneer in her field, using only ethically sourced materials for designs that promote courage, joy, and compassion. 
"100% of our metals are recycled which is very important to me for our practices to be aligned with my beliefs of trying our hardest to take care of Mother Earth as best as we can. Just like when we camp, leave no trace, that is my goal within our business."
-Jes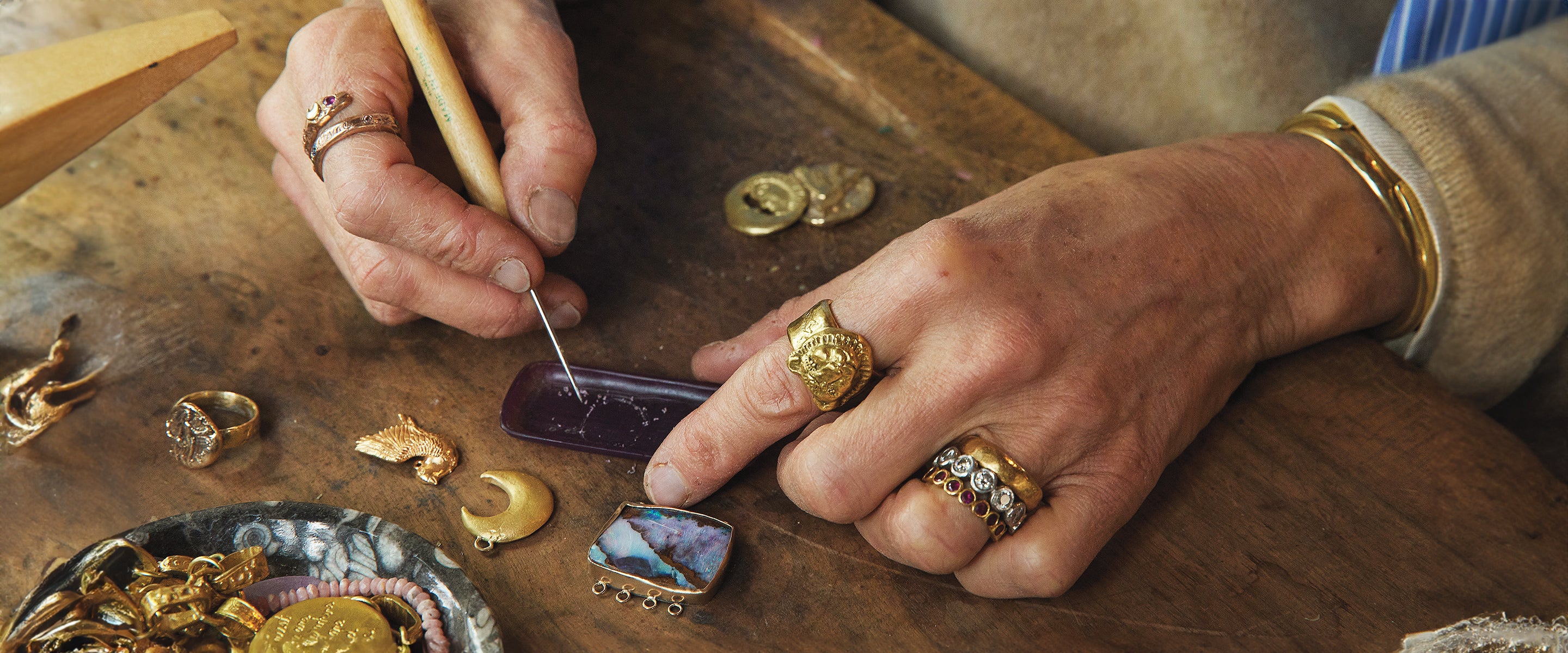 Recycled metals & Conflict Free Gems
Jes has searched the globe for the most beautiful, rare and ancient earth elements available.
Driven by her belief that each bead, stone, charm, gem, thread, and raw recycled metal holds a power and story of its own, it is imperative to her that pure goodness resonates through all.Some would say it is good karma, but to Jes it is a lifestyle choice that is embedded in her spirit. She believes every part of the journey should align with her ethics.
Jes is committed to being socially responsible in both domestic and international purchases of her gems and she supports only those suppliers who mine with the highest intentions and pay fair wages. She hand cuts each beautiful AAA quality gem in her own studio. Her jewelry is deeply rooted in kindness and many say you can feel the good energy behind it.
At Jes MaHarry the sourcing of ethical gems is taken very seriously. Working with only the best family run ethical gem dealers and clean mines she has developed meaningful relationships with her suppliers that have stood the test of time for the last thirty years. All of our diamonds are 100% conflict free.  
These mindful practices are ingrained deep within each and every single ingredient she chooses when creating her beautiful work. Her designs hold a power of thier own and reflect all that she stands for. Wear with LOVE.
TEDDY PROMISE
When Jes was a child her sister sewed her a special Teddy Bear. Jes loved "Teddy" and carried him with her always. Throughout the years, wherever Jes went, Teddy went. Eventually Teddy showed signs of wear, and had to be repaired. If repair was to take place, however, Jes wanted to make sure that Teddy would be restored to his original self -- he had to be exactly like the bear she cherished for so many years.
Jes' philosophy about Teddy has inspired her to bring this same understanding to her jewelry repairs. She has created "The Teddy Promise." This promise ensures that if any of her jewelry is brought in for repair, it will be returned to the owner in its original condition as long as we have the same ingredients as the day it was purchased. It also ensures that all labor for repair is free. For Life. The customer is responsible only for the replacement cost of lost, missing or broken components and shipping/insurance cost.
*The Teddy Promise is only valid if the original Jes MaHarry piece has not been tampered with or altered in anyway. The piece under consideration has to be purchased from the Jes MaHarry Studio. We reserve the right to use our best judgement in such cases misuse is shown.